Đề cương ôn tập học kỳ I môn Tiếng Anh Lớp 9 - Năm học 2020-2021 - Trường THCS Lê Quý Đôn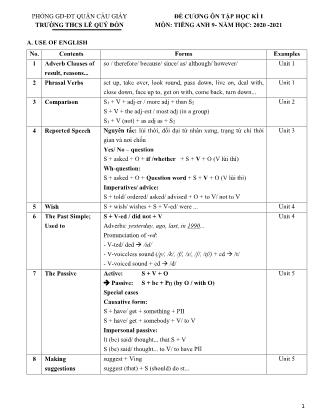 B. EXERCISES
A. PHONETICS
I. Find the word which has a different sound in the part underlined.
1. A. religion B. divide C. primary D. comprise
2. A. attended B. started C. persuaded D. learned (v)
3. A. campus B. access C. underpass D. backpack
4. A. invention B. suggestion C. information D. protection
5. A. pedestrian B. equipment C. trench D. elevated
II. Find the word whose stress pattern is different from the others.
1. A. lacquerware B. drumhead C. sculpture D. artisan
2. A. authentic B. craftsman C. workshop D. layer
3. A. embroider B. preserve C. artifact D. initial
4. A. flyover B. skytrain C. underpass D. misbehave
5. A. tolerant B. minority C. equipment D. assignment
B. VOCABULARY AND GRAMMAR
Bạn đang xem tài liệu "Đề cương ôn tập học kỳ I môn Tiếng Anh Lớp 9 - Năm học 2020-2021 - Trường THCS Lê Quý Đôn", để tải tài liệu gốc về máy bạn click vào nút DOWNLOAD ở trên
1 
PHÒNG GD-ĐT QUẬN CẦU GIẤY 
TRƯỜNG THCS LÊ QUÝ ĐÔN 
ĐỀ CƯƠNG ÔN TẬP HỌC KÌ I 
MÔN: TIẾNG ANH 9- NĂM HỌC: 2020 -2021 
A. USE OF ENGLISH 
No. Contents Forms Examples 
1 Adverb Clauses of 
result, reasons... 
so / therefore/ because/ since/ as/ although/ however/ Unit 1 
2 Phrasal Verbs set up, take over, look round, pass down, live on, deal with, 
close down, face up to, get on with, come back, turn down... 
Unit 1 
3 Comparison S1 + V + adj-er / more adj + than S2 
S + V + the adj-est / most adj (in a group) 
S1 + V (not) + as adj as + S2 
Unit 2 
4 Reported Speech Nguyên tắc: lùi thời, đổi đại từ nhân xưng, trạng từ chỉ thời 
gian và nơi chốn 
Yes/ No – question 
S + asked + O + if /whether + S + V + O (V lùi thì) 
Wh-question: 
S + asked + O + Question word + S + V + O (V lùi thì) 
Imperatives/ advice: 
S + told/ ordered/ asked/ advised + O + to V/ not to V 
Unit 3 
5 Wish S + wish/ wishes + S + V-ed/ were ... Unit 4 
6 The Past Simple; 
Used to 
S + V-ed / did not + V 
Adverbs: yesterday, ago, last, in 1990... 
Pronunciation of -ed: 
- V-ted/ ded /id/ 
- V-voiceless sound (/p/, /k/, /f/, /s/, /ʃ/, /tʃ/) + ed /t/ 
- V-voiced sound + ed /d/ 
Unit 4 
7 The Passive Active: S + V + O 
 Passive: S + be + PII (by O / with O) 
Special cases 
Causative form: 
S + have/ get + something + PII 
S + have/ get + somebody + V/ to V 
Impersonal passive: 
It (be) said/ thought... that S + V 
S (be) said/ thought... to V/ to have PII 
Unit 5 
8 Making 
suggestions 
suggest + Ving 
suggest (that) + S (should) do st... 
Unit 5 
2 
B. EXERCISES 
A. PHONETICS 
I. Find the word which has a different sound in the part underlined. 
1. A. religion B. divide C. primary D. comprise 
2. A. attended B. started C. persuaded D. learned (v) 
3. A. campus B. access C. underpass D. backpack 
4. A. invention B. suggestion C. information D. protection 
5. A. pedestrian B. equipment C. trench D. elevated 
II. Find the word whose stress pattern is different from the others. 
1. A. lacquerware B. drumhead C. sculpture D. artisan 
2. A. authentic B. craftsman C. workshop D. layer 
3. A. embroider B. preserve C. artifact D. initial 
4. A. flyover B. skytrain C. underpass D. misbehave 
5. A. tolerant B. minority C. equipment D. assignment 
B. VOCABULARY AND GRAMMAR 
III. Use the nouns in the box to complete the sentences. 
1. This . has been standing here since the 15th century. 
2. The government must take . to preserve historical sites in the area. 
3. 30 candidates can be accepted in the company in some . 
4. The Imperial Citadel of Thang Long is a . that consists of royal palaces and monuments. 
5. The new plan of the government to preserve the environment has received . from the public 
IV. Give the correct form of the verb. 
1. - Are you busy this evening? 
 - Yes, I (meet) . Tuan at the library at seven. We (study) . together. 
2. When we (be) . small, our family (live) . in the countryside. 
3. Miss Trang is in hospital. 
 - Yes, I know. I (visit) . her tomorrow. 
4. I (read) . an interesting book at the moment. I (lend) . it to you when I finish it. 
5. Look at those black clouds. It (rain) . 
6. I (not invite) ............... her to the party because I (forget) ............... her phone number. 
7. The boys like (play) . games but hates (do) . lessons. 
8. Please stop (talk) ...; I (try) . ... (finish) . . a letter to the Y&Y Green Group. 
9. I (not go) . to his house unless you go with me. 
10. Would you like (come) . to a disco this evening? 
V. Mark the letter A, B, C, or D on your answer sheet to indicate the word or phrase that is closet in 
meaning to the underlined part in each of the following questions. 
1. She has been staying up late studying for the exam because she doesn't want to disappoint her parents. 
That's why she is a bit tense now. 
A. delighted B. left-out C. surprised D. stressed 
2. I feel so depressed now and I wish my parents could put themselves in my shoes to understand that I want 
to be a designer instead of a doctor. 
A. stressed B. down C. confident D. calm 
 complex structure measures recognition responsibility 
3 
3. I suppose that Mai should take a break then start doing these hard assignments again. It would be better for 
her. 
A. continue B. stay up late C. empathize D. rest 
4. My parents said design graduates wouldn't find jobs easily, so they wanted me to get a medical degree. 
A. disappoint B. expect C. have occupations D. replace 
5. I doubt that you can't understand her situation and help her feel better. 
A. believe B. suspect C. compete D. advice 
6. Tom bought a new camera for Mary to replace the one he had borrowed and lost. 
A. compensate B. empathize C. encourage D. assure 
7. Tom assured me that this kind of problem wouldn't happen again. 
A. failed B. experienced C. improved D. ensured 
8. When you are in difficult situations, you will need adult support and guidance to make informed decisions 
and overcome stress. 
A. development B. instruction C. operation D. change 
9. As a teenager, you should learn how to develop healthy habits. 
A. create B. take risk C. deal with D. cooperate 
10. Knowing how to cooperate with others and resolving conflict are among the important social skills which 
every student should have. 
A. recognizing B. concentrating C. dealing with D. managing 
VI. Give the right form of the words in the brackets. 
1. I watch the news every day because it is very INFORM 
2. The Internet is a very useful means of COMMUNICATE 
3. We can see many on TV every day. ADVERTISE 
4. They live in a area in the north-east of the country. MOUNTAIN 
5. Do you understand the saying " is better than cure"? PREVENT 
VII. Find the mistakes and correct it. 
1. She wish she could speak English well. . 
2. I wish I was a doctor to save people. . 
3. I wish I have more time to look after my family. . 
4. Marriage used to arrange by parents. . 
5. I don't know how speak Japanese. . 
VIII. Fill in the gap with a suitable preposition. 
1. We are looking forward . hearing from you. 
2. The final exam will be held . May 5th, 2007. 
3. The competition will take place . 7a.m. and 11 a.m. 
4. Can you tell me how many chapters this book consists .? 
5. People have to live . difficult condition. 
C. READING 
IX. Read the passage below, and fill in each blank with a suitable word from the box. 
Ly Son Island 
 Although it isn't well-known to most people planning their Viet Nam trips, Ly Son Island is a terrific beach 
(1) in the centre of the Vietnamese East Sea. Beside its natural beauty, Ly Son has its own rich 
 base history beauty destination archaeological 
4 
(2) Researchers have found a lot of (3) evidence there of the presence of people 
from the ancient Sa Huynh culture dating back thousands of years. The Cham empire also once used Ly Son 
as a transhipment (4) Being a former volcanic field, Ly Son has a pristine (5) 
that not many other islands in Viet Nam can match. 
X. Read the following passage and choose the best option for each blank to complete the passage. 
 Over the last century, there have been many significant changes in the way we live. Obviously, it is difficult 
to (1) the life of ancient people and the life of the people living in the twenty-first century because 
so many changes have occurred. Even the changes that have (2) over the last ten years are amazing. 
 People in the past were not (3) to travel such long distances within such a short period of time. 
Nowadays, we have become very mobile. We have fast and (4) cars. In addition, more and more 
people travel by plane. 
 Moreover, in the past people had to work harder as they did not have (5) .... and machines to make 
their work easier. Today, most of the difficult and dangerous work is (6) .... by computers and other 
powerful machines. In the past, the (7) .... of living were not as comfortable as they are now. Besides, 
many people could not afford (8) appliances like a fridge or a vacuum cleaner because those used 
to be luxurious goods. Another difference (9) living now and in the past is the fact that nowadays 
education is accessible to everyone. In the past men were mainly the only ones educated and women were not 
(10) into public or private schools. 
 1. A. predict B. discuss C. compare D. suppose 
 2. A. occurred B. considered C. expressed D. arranged 
 3. A. used B. able C. might D. capable 
 4. A. skillful B. difficult C. historical D. comfortable 
 5. A. rules B. tools C. teams D. ideas 
 6. A. thought B. played C. done D. seen 
 7. A. conditions B. performances C. stories D. conflicts 
 8. A. mobile B. physical C. bare-footed D. household 
 9. A. within B. among C. between D. behind 
 10. A. allowed B. attended C. agreed D. appeared 
XI. Rewrite the following sentences based on the given words. 
1. I am not very good at tennis. Actually, I began to learn it 3 days ago. (take) 
 → ... 
2. People buy different types of silk products such as cloths, scarves, ties and dresses in Van Phuc village in 
Hanoi. 
 → Different types of . 
3. The neighbors are playing music too loud. It is such an annoyance! 
 → It . 
4. He often asks me some personal questions. I don't like it at all. 
 → I wish . 
5. I went to university in early 2010. My elder brother went to study abroad in 2006. 
 → By . 
XII. Make complete sentences based on the given words. 
1. Some old buildings/ city center/ knock down/ recently/ make room/ new shopping mall. 
5 
2. past/ students/ not/ use/ have computers/ projectors/ or/ technological devices/ classrooms. 
3. City people/ hardy/ talk/ visit/ neighbors/ they/ have/ work/ from dawn to dusk. 
4. It/ suggest/ traditional crafts/ preserve/ promote. 
5. Before/ take/ entrance exam/ he/ use/ suffer/ sleep difficulties. 
6 
C. MOCK TESTS 
ĐỀ SỐ 1 
I. MULTIPLE – CHOICE QUESTIONS (8 points) 
Mark the letter A, B, C or D on your answer sheet to indicate the word whose underlined part differs from 
the other three in pronunciation. 
Question 1: A. excursion B. resort C. season D. reasonable 
Question 2: A. exotic B. erode C. checkout D. decision 
Mark the letter A, B, C or D on your answer sheet to indicate the word that differs from the other three in 
the position of primary stress. 
Question 3: A. explore B. travel C. arrive D. depart 
Question 4: A. cucumber B. delicious C. tomato D. nutritious 
Mark the letter A, B, C or D on your answer sheet to indicate the underlined part that needs correction in 
each of the following questions. 
Question 5: John decided buying a new car in the morning, but in the afternoon he changed his mind. 
 A B C D 
Question 6: I look forward to see you on Tuesday after work. 
 A B C D 
Question 7: He said that they would have to set off soon after finish work after midnight. 
 A B C D 
Mark the letter A, B, C or D on your answer sheet to indicate the correct answer to each of the following 
questions. 
Question 8: We ___________ to the noise from the traffic now. 
 A. are used B. used C. have used D. don't used 
Question 9: If you want to lose weight, you ____________cut down on your sugar intake. 
 A. should B. have C. shouldn't D. mustn't 
Question 10: ________Himalayas has many of the world's highest peaks, including ______Mount Everest. 
 A. The/a B. The/ the C. A/ a D. The/ x 
Question 11: If it rains on Sunday, we shall have to __________the football match for a week. 
 A. bring on B. put off C. take off D. put away 
Question 12: __________ the differences in cuisine of each region, there are similarities, such as the staple for 
main meals – rice, ways of adding fish sauce, herbs and other flavors. 
 A. Nevertheless B. Because of C. Despite D. Although 
Question 13: Please remain seated with your seatbelts fastened during the ________. 
 A. touchdown B. mix up C. full board D. checkout 
Question 14: We can just get a sandwich if you want. That won't break the ________ 
 A. wallet B. purse C. bank D. budget 
Question 15: Thanks to TV, people can get the latest information and enjoy interesting programmes in ... 
inexpensive and convenient way. 
 A. an B. a C. the D. Ø(no article) 
Question 16: She didn't hear the dog barking outside because she _________ headphones. 
 A. wore B. is wearing C. wearing D. was wearing 
Choose the most suitable response to complete each of the following questions. 
Question 17: Nick: "I didn't get a high mark on my test." - Mi: "______!" 
 A. Congratulations B. I got a really good mark 
7 
C. You'll do better next time D. That's really bad 
Question 18: Chau: "I wish there were trams now in Ha Noi like before the1990s." - Lan: "______." 
 A. Me either B. Trams had been a popular means of transport 
 C. I'd like that too D. I don't know it 
Mark the letter A, B, C or D on your answer sheet to indicate the word(s) CLOSEST in meaning to the 
underlined word(s) in each of the following questions. 
Question 19: I have thought it over and have made up my mind; I'm going to take the job in New York. 
A. decided B. refused C. changed D. expected 
Question 20: She travels to all kinds of exotic locations all over the world. 
 A. unfamiliar B. nearby C. colorful D. wonderful 
Mark the letter A, B, C or D on your answer sheet to indicate the word(s) OPPOSITE in meaning to the 
underlined word(s) in each of the following questions. 
Question 21: The village is set amongst the most breathtaking scenery. 
 A. amazing B. spectacular C. stunning D. unimpressive 
Question 22: Unless the two signatures are identical, the bank won't honor the check. 
 A. similar B. different C. fake D. genuine 
Read the following passage and mark the letter A, B, C or D on your answer sheet to indicate the correct 
word or phrase that best fits each of the numbered blanks. 
KIMBAP 
Kimbap is a Korean style of sushi roll filled with (23) _______ meats and vegetables. (24) 
________Korean cuisine is known for BBQ and kimchi, kimbap is also a very popular dish which is often 
served during gatherings and picnics. In addition, this dish could easily be served for dinner or a snack. 
Making kimbap is rather simple because it does not require (25) ________ special cooking skills. It 
involves (26) ________rice over a sheet of nori (roasted seaweed) filled with an array of ingredients such as 
beef, eggs, carrots and sausage. Most people cut (27) ________ into small pieces, but some love eating them 
in a whole. 
Question 23: A. seasoned B. seasoning C. season D. seasonal 
Question 24: A. Because B. Although C. However D. In fact 
Question 25: A. any B. some C. a D. few 
Question 26: A. roasting B. steaming C. spreading D. stewing 
Question 27: A. it B. theirs C. its D. them 
Read the passage and choose the correct answer to each of the questions. 
 Queenstown is one of New Zealand's top visitor destinations and if you come to the region you'll 
understand why. In winter, scenery- packed Queenstown is a base for skiers and snowboarders. At other times 
of the year, it's a place for adventure and indulgence. 
The resort town of Queenstown is sophisticated and fantastically scenic. Its lake and mountain 
landscape is suited to almost any kind of adventure; but Queenstown is just as well-known as a place for 
indulgence. The area's history is intertwined with gold. In 1862, two sheep shearers struck it rich at the edge 
of the Shotover River. The ensuring gold rush town was named Queenstown because it was fit for Queen 
Victoria. Adventure activities include snow sports, bungy jumping, jet boating, horse trekking and river rafting. 
Indulgent experiences include exceptional food and wine, lake cruises, spa treatments, boutique shopping and 
leisurely games of golf. 
Question 28: According to the passage, what is NOT true about Queenstown? 
 A. People can ski and skateboard in winter B. It is a resort town 
8 
C. Its history is related to gold D. It was named by Queen Victoria 
Question 29: What is about Queenstown that makes it suited to almost any kind of adventure? 
 A. its snow B. its boutiques and wine 
C. its gold rush and rich people D. its lake and mountain landscape 
Question 30: Which of the following is NOT mentioned as one of the adventure activities? 
 A. jet boating B. river rafting 
C. snow sports D. canoeing 
Question 31: The word "indulgence" most likely means the act of ________. 
 A. taking photographs B. wanting to become rich or possessing gold 
 C. doing shopping D. allowing oneself to do something 
Question 32: Which is mentioned as one of the indulgent experiences? 
 A. going on lake cruises B. shopping for food 
 C. capturing scenic sights D. exploring caves 
II. WRITING (2 points) 
Finish the second sentence so that it has a similar meaning to the first one, beginning with the given words. 
Question 33: "Why don't you buy them this picture as a wedding present, Sarah?" Robin said 
 Robin suggested _______________________________________________________________________ 
Question 34: Mr. Pike was tired, so he didn't go to the meeting. 
 Because of ___________________________________________________________________________ 
Question 35: You should take the train instead of the bus. 
 If I _________________________________________________________________________________ 
Question 36: What a pity they close the shops at lunch time. 
 I wish _______________________________________________________________________________ 
Write new sentences as similar as possible in meaning to the original sentences, using the given words in 
brackets. Do not change the given words in any ways. 
Question 37: "What aspect of learning Japanese do you find most difficult?" Amy asked me. (FOUND) 
 ____________________________________________________________________________________ 
Question 38: Getting into work this morning was a bit difficult. (IT) 
 ____________________________________________________________________________________ 
Question 39: His parents made him study for his exams. (WAS) 
 ____________________________________________________________________________________ 
Question 40: The choice of food in the market is not as good as in the supermarket. (BETTER) 
 ____________________________________________________________________________________ 
THE END 
9 
ĐỀ SỐ 2 
I. MULTIPLE CHOICE: (8 points) 
Mark the letter A, B, C or D to indicate the word whose underlined part differs from the other three in 
pronunciation in each of the following questions. 
Question 1: A. decorated B. folded C. wished D. prohibited 
Question 2: A. shadow B. sugarcane C. sightseeing D. ensure 
Mark the letter A, B, C or D to indicate the word that differs from the other three in the position of primary 
stress in each of the following questions. 
Question 3: A. university B. concentration C. industrial D. authenticity 
Question 4: A. qualify B. craftsman C. embroider D. advertise 
Mark the letter A, B, C or D to indicate the underlined part that needs correction in each of the following 
questions. 
Question 5: The word "jean" comes from a kind of material made in the Europe. 
 A B C D 
Question 6: It is so amazed that the population in this city is three times higher after only 5 years. 
 A B C D 
Question 7: The Notre Dame Cathedral is considered one of the most famous beauty spot in Ho Chi Minh 
City. A B C D 
Mark the letter A, B, C or D to indicate the most suitable response to complete each of the following 
exchanges. 
Question 8: Mark: Can you give me a hand? 
 John: _____________. 
A. Sorry. My hands are dirty. C. Why? I'm busy now. 
B. I'd like a cup of coffee. D. I'd be glad to. 
Question 9: - "Do you mind if I open the window?" 
 - "_____________." 
A. Yes, it's my pleasure. C. No, I hope not. 
B. No, just do it. D. Yes, go ahead. 
Mark the letter A, B, C or D to indicate the correct answer to each of the following questions. 
Question 10: _____________, we used to cook five-color sticky rice on the first day of the lunar month. 
A. Tradition B. Traditional C. Traditionally D. Traditionalist 
Question 11: She is busy _____________the scarf for her mother before the winter comes. 
A. to knit B. knit C. knitting D. knitted 
Question 12: - "How much longer are you staying?" – "_____________ the end of the month. Then I have to 
come back home." 
A. At B. Since C. For D. Until 
Question 13: After learning pottery making skills, he decided to_____________ a workshop to sell his 
products. 
A. look after B. set up C. take off D. turn down 
Question 14: These strawberry cakes look good, _____________? 
A. aren't they B. don't they C. don't these D. aren't these 
Question 15: She doesn't study hard, _____________ she rarely gets good marks. 
A. and B. or C. but D. so 
10 
Question 16: With the development of social network, people tend to talk through the Internet rather than 
_____________ communication. 
A. face to face B. face and face C. face with face D. face up face 
Question 17: It is suggested the pedestrians _____________ the road at the zebra crossing. 
A. should cross B. crosses C. to cross D. are crossing 
Question 18: You won't be allowed to drive a motor vehicle _____________ you are 18. 
A. if B. unless C. when D. because 
Mark the letter A, B, C or D to indicate the word(s) CLOSEST in meaning to the underlined word(s) in each 
of the following questions. 
Question 19: Most visitors to Ha Noi came to visit Ho Chi Minh Mausoleum. 
A. impressive tomb B. large house C. lasting memorial D. natural trail 
Question 20: My sister is a very diligent student. She works very hard at every subject. 
A. smart B. clever C. hard-working D. kind 
Mark the letter A, B, C or D to indicate the word(s) OPPOSITE in meaning to the underlined word(s) in 
each of the following questions. 
Question 21: Some people think their abilities have limitations, but with encouragement, they can perform 
much better than expected. 
A. possibilities B. disadvantages C. drawbacks D. advantages 
Question 22: On Saturday, wearing uniforms is optional, so I often choose T-shirt and jeans. 
A. compulsory B. voluntary C. comfortable D. fashionable 
Read the following passage and mark the letter A, B, C or D to indicate the correct word or phrase that best 
fits each of the numbered blanks. 
Hoi An Ancient Town has been (23) _____________ as a UNESCO World Heritage Site since 1999. 
Originally a trading port in the 15th century, Hoi An is now a famous tourist attraction thanks (24) 
_____________ its well-preserved ancient architecture. To maintain the cultural heritage of the old town, the 
government has created many measures and (25) _____________. The money made from entrance tickets to 
Hoi An Ancient Town is put directly to the conservation efforts. It's estimated that a greater part of Hoi An' s 
annual budget is used to repair many old houses in the town. Local people are encouraged (26) 
_____________and preserve their own property with the help from the government. (27) _____________ 
number of daily visitors to structures like the Japanese Bridge is also limited to a few thousand to protect it. 
Question 23: A. recognizing B. recognized C. recognize D. recognizes 
Question 24: A. to B. for C. of D. with 
Question 25: A. politics B. policies C. politicians D. political 
Question 26: A. fix B. fixing C. to fix D. to be fixed 
Question 27: A. A B. An C. The D. No article 
Read the following passage and mark the letter A, B, C or D to indicate the correct answer to each of the 
questions. 
 Every year, the average temperature of the Earth's surface gets a little bit warmer. This gradual trend 
is called global warming. Warmer weather may sound nice, but global warming is something to be very 
concerned about. 
 Scientists are worried that continued warmer temperatures could damage the environment in many 
devastating ways. Rising temperatures might cause plants and animals to become extinct. They could melt 
enough polar ice to cause the level of the sea to rise. Weather patterns could also change. There might be more 
droughts or serious storms with flooding. In some areas, human diseases could spread. 
11 
 What's causing global warming? Humans are mostly to blame. Pollutants from factories and cars add 
toxic gases to air. These gases rise to the Earth's atmosphere. As the sun's rays warm the Earth, the gases work 
much like the glass in a greenhouse. They help trap the heat in the atmosphere and make the Earth grow 
warmer. That is why they are nicknamed "greenhouse gases". 
 It is our responsibilities to take care of our planet. Global warming is a serious problem with serious 
consequences. If we want future generations to enjoy their time on Earth, we must act now! 
Question 28: In paragraph 1, the author suggests that people may not_____________ 
A. understand how serious colder weather is. C. care about warmer weather. 
B. take global warming seriously. D. think warmer weather sounds nice. 
Question 29: Which of the following is NOT a possible effect of global warming? 
A. Weather patterns changing. B. Plants and animals becoming extinct. 
C. Human diseases spreading. D. More polar ice. 
Question 30: In paragraph 3, which of the following is the cause of global warming? 
A. Exhaust fume from cars. C. The sun's rays. 
B. Toxic gases and smoke from factories. D. Both A and B are correct. 
Question 31: From the description of greenhouse gases, it can be concluded that a greenhouse is ___________. 
A. a colored house B. a type of gas C. the Earth D. a glass building 
Question 32: What is the main idea of this passage? 
A. The solutions of global warming. 
B. The causes and effects of global warming. 
C. The different types of global warming. 
D. The global warming is not serious enough to be concerned about. 
II. WRITING: (2 points) 
Finish the second sentence so that it has a similar meaning to the first one using the exact word in the 
bracket. 
Question 33: Because you don't follow these instructions, you get burned. (IF) 
 . . .. 
Question 34: "Why don't you unplug all electronic devices around your house when they are not used, Kim?", 
he asked. (ADVISED) 
 . . .. 
Question 35: The news was so shocking that she got fainted immediately after hearing it. (SUCH) 
 . . .. 
Question 36: Houses in the past had a thatched roof which was made of straw. (USED TO) 
 . . .. 
Finish the second sentence so that it has a similar meaning to the first one beginning with the given words. 
Question 37: The Simpsons haven't come back to their hometown for more than ten years. 
 The last time ... . . . 
Question 38: It's a pity that I can't draw very well. 
 I wish ... . 
Question 39: They lost the game because of his carelessness in the last few minutes. 
 Since he . . . 
Question 40: What about using public buses instead of private vehicles to travel? 
 Let's . . . . 
The end 

Tài liệu đính kèm:
de_cuong_on_tap_hoc_ky_i_mon_tieng_anh_lop_9_nam_hoc_2020_20.pdf