Giáo án Tiếng Anh Lớp 6 - Unit 12: Sports and pastimes - Nguyễn Thị Thu Thủy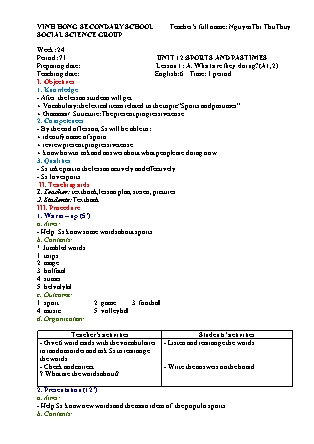 I. Objectives
1. Knowledge
- After the lesson students will get
+ Vocabulary: the lexical items related to the topic "Sports and pastimes"
+ Grammar/ Structure: The present progressive tense
2. Competences
- By the end of lesson, Ss will be able to:
+ identify name of sports
+ review present progressive tense
+ know how to ask and answer about what people are doing now
3. Qualities
- Ss take part in the lesson actively and effectively.
- Ss love sports.
 II. Teaching aids
1. Teacher: textbook, lesson plan, stereo, pictures.
2. Students: Textbook
III. Procedure
1. Warm – up (5')
a. Aims:
- Help Ss know some words about sports.
b. Contents:
* Jumbled words
1. torps
2. mage
3. bolfatol
4. sumci
5. belvalylol
c. Outcome:
1. sport 2. game 3. football
4. music 5. volleyball
Bạn đang xem tài liệu "Giáo án Tiếng Anh Lớp 6 - Unit 12: Sports and pastimes - Nguyễn Thị Thu Thủy", để tải tài liệu gốc về máy bạn click vào nút DOWNLOAD ở trên
VINH HONG SECONDARY SCHOOL	Teacher's full name: Nguyen Thi Thu Thuy
SOCIAL SCIENCE GROUP
Week: 24
Period: 71 UNIT 12: SPORTS AND PASTIMES
Preparing date: Lesson 1: A. What are they doing? (A1,2)
Teaching date: English: 6 Time: 1 period
I. Objectives
1. Knowledge
- After the lesson students will get
+ Vocabulary: the lexical items related to the topic "Sports and pastimes"
+ Grammar/ Structure: The present progressive tense	
2. Competences
- By the end of lesson, Ss will be able to:
+ identify name of sports
+ review present progressive tense
+ know how to ask and answer about what people are doing now
3. Qualities
- Ss take part in the lesson actively and effectively.
- Ss love sports.
 II. Teaching aids
1. Teacher: textbook, lesson plan, stereo, pictures.
2. Students: Textbook
III. Procedure
1. Warm – up (5')
a. Aims: 
- Help Ss know some words about sports.
b. Contents:
* Jumbled words
1. torps 
2. mage 
3. bolfatol 
4. sumci 
5. belvalylol 
c. Outcome:
1. sport	2. game	3. football
4. music	5. volleyball
d. Organization: 
Teacher's activities
Students' activities
- Give 6 word cards with the vocabularies in random order and ask Ss to rearrange the words.
- Check and correct.
? What are the words about?
- Listen and rearrange the words.
- Write the answers on the board
2. Presentation (12')
a. Aims:
- Help Ss know new words and the main ideas of the popular sports.
b. Contents:
+ swim(v): bơi lội
+ play badminton (v): chơi cầu lông
+ play tennis (v): chơi quần vợt
+ play table tennis (v): chơi bóng bàn
+ jog (v): đi bộ thể dục
+ do aerobics (v): tập TD nhịp điệu
+ skip (v): nhảy dây
+ pastime (n): trò giải trí
c. Outcome: new words
d. Organization: 
Teacher's activities
Students' activities
- Use some ways to present new words.
- Asks Ss to practice reading new words.
- Gets feedback.
- Checks: matching.
- Ask Ss to look at the pictures in A1 and repeat the statements in the pictures in chorus. 
? Which tense is it?
- Ask Ss to repeat the usage and form of present progressive tense
- Listen
- Repeat in individually and chorus 
- Copy
- Look at the pictures and repeat in chorus.
- Answer.
- Repeat.
3. Practice (15')
a. Aims:
- Help Ss use the present progressive tense to ask and answer about what people are doing now
b. Contents:
- Exercise 2 on page 125- textbook
c. Outcome: Expected results or keys
S1: What is he doing?
S2: He's swimming
S1: What is she doing?
S2: She's doing aerobics
S1: What are they doing?
S2: They are playing badminton 
d. Organization: 
Teacher's activities
Students' activities
- Ask Ss to look at the picture A1 p.124. 
- Ask Ss to ask and answer with questions in A2.
- Go round and help Ss to work in pairs.
- Get Ss to practice before the class.
- Look at the picture to practice. 
- Work in pairs.
- Give feedback.
4. Application (13')
a. Aims:
- Help Ss use new words and the present progressive tense to complete the sentences.
b. Contents:
1. He/play badminton
2. They/play soccer
3. Nam / swim
4. Lan and Hoa /play tennis
5. Lan/ do aerobics
c. Outcome: Expected results or keys
1. He is playing badminton.
2. They are playing soccer.
3. Nam is swimming.
4. Lan and Hoa are playing tennis.
5. Lan is doing aerobics.
d. Organization: 
Teacher's activities
Students' activities
 - Ask Ss use the present progressive tense to complete the sentences..
- Ask Ss t give their answers on the board.
- Corrects Ss' mistakes.
- Complete the sentences.
- Give the answers.
- Check the answers.
Homework 
- Learn by heart all the new words.
- Prepare for the next lesson: Unit 12: Lesson 2: A3-5.
Week: 24
Period: 72 UNIT 12: SPORTS AND PASTIMES
Preparing date: Lesson 1: A. What are they doing? (A3-5)
Teaching date: English: 6 Time: 1 period
I. Objectives
1. Knowledge
- After the lesson students will get
+ Vocabulary: the lexical items related to the topic "Sports and pastimes"
+ Grammar/ Structure: The present simple tense
2. Competences
- By the end of lesson, Ss will be able to:
+ know more about name of sports
+ review the present simple tense
+ read a short texts about sport and practice "Which.....?" questions with simple present tense to talk about people's regular exercise.
3. Qualities
- Ss take part in the lesson actively and effectively.
- Ss love playing sports and doing exercises to keep healthy.
 II. Teaching aids
1. Teacher: textbook, lesson plan, stereo, computer.
2. Students: Textbook
III. Procedure
1. Warm – up (5')
a. Aims: 
- Help Ss revise name of sports.
b. Contents:
 * Net work
 skip
Sports
c. Outcome:
1. swim 
 2. play badminton 
 3. do aerobics
4. jog 
5. play tennis
d. Organization: 
Teacher's activities
Students' activities
- Tells Ss how to do the task.
- Gives Ss time to do the task.
- Goes around and helps Ss.
- Gets feedback and corrects.
- Listen and do the task in groups.
- Group works.
- Write the answers on the board
2. Presentation (12')
a. Aims:
- Help Ss use vocab about sports to answer the question "Which sports do you play?"
b. Contents:
- Exercise 3 on page 125- textbook
c. Outcome:
eg: Which sports do you play?
 I play soccer
d. Organization: 
Teacher's activities
Students' activities
 - Ask Ss to listen & repeat the sentence in each picture.
- Play the tape twice.
- Ask Ss to ask and answer the question " Which sports do you play? ".
- Listen and repeat.
-Listen to the tape
- Ask and answer the question.
3. Practice (15')
a. Aims:
- Ss read and understand the text to answer the questions.
b. Contents:
- Exercise 4 on page 126- textbook
c. Outcome: Expected results or keys
a. Lan swims, does aerobics and plays badminton. 
b. No, she doesn't
c. He plays soccer, jogs and plays table tennis
d. Yes, he does.
d. Organization: 
Teacher's activities
Students' activities
 - Ask Ss to read the text about Lan and Nam.
- Ask Ss to answer the questions.
- Ask Ss to work in pairs to practice asking and answering the questions.
- Give feedback.
- Read the text.
- Answer the questions.
- Work in pairs.
- Check the answers.
4. Application (13')
a. Aims:
- Help Ss use vocab about sports and the present simple tense to write about the sports they play.
b. Contents:
- Exercise 5 on page 126- textbook
c. Outcome: 
* Suggested answers
I do aerobics.
I play basketball.
I swim and play badminton.
d. Organization: 
Teacher's activities
Students' activities
 - Ask Ss to read the text about Lan and Nam.
- Ask Ss to answer the questions.
- Ask Ss to work in pairs to practice asking and answering the questions.
- Give feedback.
- Read the text.
- Answer the questions.
- Work in pairs.
- Check the answers.
Homework 
- Learn by heart all the new words.
- Prepare for the next lesson: Unit 12: Lesson 3: B1-3.
Week: 25
Period: 73 UNIT 12: SPORTS AND PASTIMES
Preparing date: Lesson 3: B. Free time (B1 - 3)
Teaching date: English: 6 Time: 1 period
I. Objectives
1. Knowledge
- After the lesson students will get
+ Vocabulary: the lexical items related to the topic "Sports and pastimes"
+ Grammar/ Structure: The present simple tense	
2. Competences
- Ss will be able to ask and answer what people do in their free time and others'. 
3. Qualities
- Ss take part in the lesson actively and effectively.
- Ss are interested in getting to know more about sports and pastimes.
II. Teaching aids
1. Teacher: textbook, lesson plan, stereo, computer.
2. Students: Textbook
III. Procedure
1. Warm – up (5')
a. Aims: 
- Help Ss remember the old knowledge of previous lesson.
b. Contents:
* Chatting
1. Do you like ports?
2. Which sports do you play?
3. Does Lan like sports?
4. Which sports does she play?
5. Does Nam like sports?
6. Which sports does he play?
c. Outcome: Expected results or keys
1. Yes, I do	2. I play badminton	3. Yes, she does
4. She swims, does aerobics and plays badminton	
5. Yes, he does
6. He plays soccer, jogs and plays table tennis.
d. Organization: 
Teacher's activities
Students' activities
- Ask Ss some questions to review the knowledge.
- Ask Ss to answer the questions.
- Gets feedback.
- Corrects Ss' mistakes.
- Listen.
- Answer the questions.
2. Presentation (12')
a. Aims:
- Help Ss know some new words 
b. Contents:
- free time : thời gian rảnh rỗi
- go fishing (v): đi câu cá
- go to the movies (v): đi xem phim.
- play video games (v): chơi trò chơi điện tử
c. Outcome: new words
d. Organization: 
Teacher's activities
Students' activities
- Use different techniques to teach vocabulary.
- Asks Ss to practice reading new words.
- Gets feedback.
- Checks: matching.
- Ask Ss to look at the pictures in A1 and repeat the statements in the pictures. 
? Which tense is it?
- Ask Ss to repeat the usage and form of present simple tense.
- Elicit the model sentence from Ss
- Give the model sentence
- Listen
- Repeat in individually and chorus 
- Copy
- Look at the pictures and repeat in chorus.
- Answer.
- Repeat.
What do you do in your free time?
3. Practice (15')
a. Aims:
- Help Ss use the present simple tense to ask and answer about what people do in their free time.
b. Contents:
- Exercise 2, 3 on page 127, 128- textbook
c. Outcome: 
Exercise 2.
S1: What do you do in your free time?
S2: I go to the movies.
Exercise 3. 
a.What does Phuong do in his free time?
 He goes to the movies.
b. What does Ly do in her free time?
 Ly watches TV in her free time
c. What does Nam do in his free time?
 Nam reads book in his free time
d. What does Lan do in her free time?
 Lan listens to the music in her free time
e. What does Tuan do in his free time?
 Tuan goes fishing in his free time
f. What does Long do in his free time?
 Long plays video game in his free time
d. Organization: 
Teacher's activities
Students' activities
Exercise 2. Ask and answer the question ( P127)
- Ask Ss to work in pairs to ask and answer the question "What do you do in your free time".
- Go round and help Ss to work in pairs.
- Get Ss to practice before the class.
Exercise 3. Listen and read (P128)
-Ask Ss to listen and read 6 sentences in Ex.3 –P128.
- Call Ss to read aloud and check their pronunciation.
- Ask Ss to work in pairs to ask and answer questions about the pictures in exercise B1. 
- Ask Ss to practice before the class.
- Give feedback.
- Ask and answer the question. 
- Work in pairs.
- Listen.
-Listen and read.
-Read aloud.
-Work in pairs to ask and answer the question.
-Practice before the class.
- Get feedback.
4. Application (13')
a. Aims:
- Help Ss use new words and the present simple tense to complete the sentences.
b. Contents:
1. He/ play video games/ free time.
2. My sister/ play volleyball/ her free time.
3. What/ his friends/ do / their free time ?
4. Lan and Hoa /play tennis/ every day. 
5. I/ go fishing/ every afternoon.
c. Outcome: Expected results or keys
1. He plays video games in his free time.
2. My sister plays volleyball in her free time.
3. What do his friends do in their free time?
4. Lan and Hoa play tennis every day.
5. I go fishing every afternoon.
d. Organization: 
Teacher's activities
Students' activities
 - Ask Ss use the present simple tense to complete the sentences.
- Ask Ss to give their answers on the board.
- Corrects Ss' mistakes.
- Complete the sentences.
- Give the answers.
- Check the answers.
Homework 
- Learn by heart all the new words.
- Prepare for the next lesson: Unit 12: Lesson 4: B4,5.
Week: 25
Period: 74 UNIT 12: SPORTS AND PASTIMES
Preparing date: Lesson 4: B. Free time (B4,5)
Teaching date: English: 6 Time: 1 period
I. Objectives
1. Knowledge
- After the lesson students will get
+ Vocabulary: the lexical items related to the topic "Sports and pastimes"
+ Grammar/ Structure: The present simple tense	
2. Competences
- Ss can listen and know what people do in their free time.
- Ss will be able to talk about frequency of activities by using "How often....?" and answer with "once/twice/ three times.......a week".
3. Qualities
- Ss take part in the lesson actively and effectively.
- Ss are interested in getting to know more about sports and pastimes.
II. Teaching aids
1. Teacher: textbook, lesson plan, stereo, computer.
2. Students: Textbook
III. Procedure
1. Warm – up (5')
a. Aims: 
- Help Ss revise some new words, structures and improve their listening skill.
b. Contents:
- Exercise 4 on page 128- textbook
c. Outcome: Expected results or keys
1. Tan watches television - picture a	
2. Minh and Nam go to the cinema – picture d, e	
3. Lien listens to the radio – picture b
4. Minh goes fishing	 - picture c	
5. Lan and Mai read books – picture f
d. Organization: 
Teacher's activities
Students' activities
- Ask Ss to look at the names and the pictures in B4.
- Run through the pictures.
- Play the tape twice.
- Ask Ss to give the answers.
- Check the answers.
- Look at the pictures
- Listen to the tape
- Give the answers
- Check the answers
2. Presentation (12')
a. Aims:
- Help Ss know some new words and model sentences 
b. Contents:
- How often? (adv): Bao lâu một lần ?
- time (n): lần
- once (adv) = one time : 1 lần
- twice (adv) = two times : 2 lần
- three times (adv) : 3 lần
- once a week: một lần một tuần
c. Outcome: new words, ask and answer with "How often .?"
d. Organization: 
Teacher's activities
Students' activities
- Use different techniques to teach vocabulary.
- Asks Ss to practice reading new words.
- Gets feedback.
- Checks: matching.
- Ask Ss to look at the pictures in A1 and repeat the statements in the pictures. 
? Which tense is it?
- Ask Ss to repeat the usage and form of present simple tense.
- Elicit and give model sentences
- Listen
- Repeat in individually and chorus 
- Copy
- Look at the pictures and repeat in chorus.
- Answer.
- Repeat.
+ How often does she go jogging/ listen to music/ read?
 She goes jogging/ listens to music/ reads once a week/ twice a week/ three times a week...
3. Practice (15')
a. Aims:
- Help Ss practice asking and answering questions "How often ?" about Ly's activities 
b. Contents:
- Exercise 5 on page 128, 129- textbook
c. Outcome: 
A: How often does Ly go to school?
B: She goes to school every weekday's morning.
A: How often does she play badminton?
B: She plays badminton three times a week, on Mondays, Wednesdays and Saturdays.
A: How often does she listen to music?
B: She listens to music twice a week, on Tuesday and Sunday afternoons.
A: How often does she play tennis?
B: She plays tennis every Friday afternoon.
A: How often does she go to the movies?
B: She goes to the movies twice a week, on Wednesday and Sunday evenings.
A: How often does she watch TV?
B: She watches TV twice a week, on Tuesday and Saturday evenings.
A: How often does she jog?
B: She jogs every Thursday afternoon.
A: How often does she read books?
B: She reads three times a week, on Monday, Thursday and Friday evenings.
d. Organization: 
Teacher's activities
Students' activities
- Ask Ss to look at Ly's diary and understand the diary.
- Have Ss practise asking and answering with once a week/ twice a week/ three times a week...
- Ask Ss to work in open pairs then in closed pairs
- Call some pairs to demonstrate before the class.
- Correct their mistakes
- Look at Ly's diary and understand 
- Work in pairs to practice
-Practice before the class.
- Get feedback.
4. Application (13')
a. Aims:
- Help Ss use vocabs related to the topic "sports and pastimes", adverbs of frequency and describe timetables
b. Contents:
- Make their timetable
TIME
Morning
Afternoon
Evening
Monday
Tuesday
Wednesday
Thursday
Friday
Saturday
Sunday
c. Outcome: 
* Suggested answers
TIME
Morning
Afternoon
Evening
Monday
go to school
play badminton
read book
Tuesday
go to school
listen to music
play video game
Wednesday
go to school
play badminton
go to the movie
Thursday
go to school
go fishing
listen to music
Friday
go to school
listen to music
read book
Saturday
go to school
read book
watch TV
Sunday
watch TV
play video games
go to the movie
eg. I go to school every weekday's morning.
 I play badminton twice a week, on Mondays and Wednesdays afternoons.
 ..
d. Organization: 
Teacher's activities
Students' activities
 - Ask Ss to base on Ly's diary to make their timetable
- Ask Ss to write activities they do every day to complete the table.
- Ask Ss to use once/ twice/ three times to talk about frequency of activities.
- Ask some Ss to present before the class.
- Correct their mistakes
- Make their timetable.
- Write.
- Talk 
- Present before the class
- Listen
Homework 
- Learn by heart all the new words.
- Prepare for the next lesson: Unit 12: Lesson 5: C1-4.
Week: 25
Period: 75 UNIT 12: SPORTS AND PASTIMES
Preparing date: Lesson 5: C. How often (C1 - 4)
Teaching date: English: 6 Time: 1 period
I. Objectives
1. Knowledge
- After the lesson students will get
+ Vocabulary: the lexical items related to the topic "Sports and pastimes"
+ Grammar/ Structure: The present simple tense, adverbs of frequency	
2. Competences: By the end of lesson:
- Ss will be able to ask and answer question "How often....?" and use adverbs of frequency to talk about frequency of activities. 
- Ss understand the text about Ba and Lan's relaxing activities.
- Ss can write about their and others' relaxing activities using adverbs of frequency.
3. Qualities
- Ss take part in the lesson actively and effectively.
- Ss are interested in getting to know more about sports and pastimes.
II. Teaching aids
1. Teacher: textbook, lesson plan, stereo, computer.
2. Students: Textbook
III. Procedure
1. Warm – up (5')
a. Aims: 
- Help Ss remember the old knowledge of previous lesson.
b. Contents:
- S1: Write new words.
- S2. Ask and answer with "How often...?"
c. Outcome: 
+ How often? (adv): Bao lâu một lần ?
+ time (n): lần
+ once (adv) = one time : 1 lần
+ twice (adv) = two times : 2 lần
+ three times (adv) : 3 lần
+ once a week: một lần một tuần
- How often do you go jogging?
 I go jogging three times a week.
d. Organization: 
Teacher's activities
Students' activities
- Asks Ss to go to the board and write new words.
- Asks 2 Ss to go to the board to ask and answer with "How often...?" question.
- Gets feedback.
- Corrects Ss' mistakes.
- Write new words.
- Work in pairs.
2. Presentation(12')
a. Aims:
- Help Ss know some new words 
b. Contents:
- always (adv): luôn luôn
- usually (adv): thường thường
- often (adv): thường 
- sometimes (adv): thỉnh thoảng
- seldom = rarely (adv): hiếm khi
- never (adv): không bao giờ
- have a picnic = go on a picnic (v): đi dã ngoại
- fly a kite (v): thả diều 
- go to the zoo (v) : đi sở thú
- go camping (v) : đi cắm trại
- tent (n) : lều/ bạt
c. Outcome: new words, model sentence
d. Organization: 
Teacher's activities
Students' activities
- Use different techniques to teach vocabulary.
- Asks Ss to practice reading new words.
- Gets feedback.
- Checks: R&R
- Ask Ss to listen and repeat some words in Ex.1
- Ask Ss to listen and read Ex.2
- Ask Ss to read aloud.
- Teacher elicits from Ss to give the model sentences
- Ask Ss to look at the story and find the places of adverbs of frequency in the sentences.
- Listen, repeat and copy
- Listen and repeat
- Listen and read
- Read aloud
- How often do Ba and Lan go to the zoo?
 They sometimes go to the zoo.
3. Practice (15')
a. Aims:
- Help Ss practice asking and answering questions "How often ?" about Ba and Lan
b. Contents:
- Exercise 3 on page 127, 128- textbook
c. Outcome: 
How often do Ba and Lan have a picnic?
=> They sometimes have a picnic but not always.
How often do Ba and Lan play sports?
=> They usually play sports.
How often do Ba and Lan fly the kites?
=> They sometimes fly the kites.
How often do Ba and Lan go camping?
=> They never go camping.
How often do Ba and Lan walk to school?
=> They always walk to school.
How often are Ba and Lan late for school?
=> They are never late for school.
How often do Ba and Lan do their homework.
=> They always do their homework.
d. Organization: 
Teacher's activities
Students' activities
- Ask Ss to work in pairs to ask and answer about Ba and Lan with "How often .?"
- Call some pairs to practice before the class.
- Give feedback
- Ask and answer the question. 
- Practice before the class.
- Get feedback
4. Application (13')
a. Aims:
- Help Ss use adverbs of frequency to write sentences about them.
b. Contents:
- Exercise 4 on page 131- textbook
c. Outcome: 
* Suggested answers
How often do you go to the zoo?
=> I sometimes go to the zoo with my family.
How often do you go to the park?
=> I often go to the park on Sunday.
How often do you play sports?
=> I usually play soccer.
How often do you go camping?\
=> I never go camping.
How often do you go fishing?
=> I never go fishing.
How often do you help your mom?
=> I always help my mom.
How often are you late for school?
=> I am never late for school.
d. Organization: 
Teacher's activities
Students' activities
 - Ask Ss answer questions in their exercise book.
- Ask Ss to compare their answers with a partner.
- Ask Ss to work in pairs to practice.
- Call Ss to present before the class
- Correct their mistakes
- Answer the questions
- Compare with a partner.
- Work in pairs
- Present before the class.
- Listen
Homework 
- Learn by heart all the new words.
- Prepare for the next lesson: Unit 12: Lesson 6: C5, 6.
Week: 26
Period: 76 UNIT 12: SPORTS AND PASTIMES
Preparing date: Lesson 6: C. How often (C5, 6)
Teaching date: English: 6 Time: 1 period
I. Objectives
1. Knowledge
- After the lesson students will get
+ Vocabulary: the lexical items related to the topic "Sports and pastimes"
+ Grammar/ Structure: The present simple tense, adverbs of frequency.	
2. Competences
- Ss listen and realize Nga and Lan's actions.
- Ss read and answer questions about Minh and his other two friends' pastimes.
- Ss can speak and write about other's pastimes.
3. Qualities
- Ss take part in the lesson actively and effectively.
- Ss are interested in taking part in sport activities and pastimes.
II. Teaching aids
1. Teacher: textbook, lesson plan, stereo, computer.
2. Students: Textbook
III. Procedure
1. Warm – up (10')
a. Aims: 
- Help Ss revise adverbs of frequency, "How often...?" question and improve their listening skill.
b. Contents:
- Exercise 5 on page 132- textbook
c. Outcome: Expected results or keys
a) Nga and Lan never go camping. 
b) They sometimes go to the zoo. 
c) They often go to the park. 
d) They often play sports. 
e) They usually have a picnic in the park.
d. Organization: 
Teacher's activities
Students' activities
- Ask Ss to look at the pictures in C5 and call out the activities through the pictures. – Ask Ss to predict how often Nga and Lan do these things.
- Call Ss to give their prediction 
- Let Ss listen to the tape twice
- Get Ss'answers and compare with the prediction.
- Give the keys. 
- Look at the pictures and call out the activities.
- Predict 
- Give the prediction
- Listen to the tape
- Compare with the prediction.
- Correct
2. Presentation (12')
a. Aims:
- Help Ss know some new words 
b. Contents:
- wear (v): mặc (quần áo), đội (mũ), đi (giày)...
- clothes (n): quần áo
- boots (n): đôi ủng
- stove (n): cái lò
- camping stove: (n) bếp du lịch
- overnight (adv): qua đêm 
c. Outcome: new words
d. Organization: 
Teacher's activities
Students' activities
- Use different techniques to teach vocabulary.
- Asks Ss to practice reading new words.
- Ask Ss to look at Ex.6 and predict answers about Minh
1. What does Minh always do?
2 What does Minh sometimes do?
- Listen, repeat and copy
- Look at Ex.6 and predict.
3. Practice (15')
a. Aims:
- Help Ss improve their reading skill and understand the text to answer the questions.
b. Contents:
- Exercise 6 on page 132, 133- textbook
c. Outcome: 
a. He likes walking.
b. They always wear strong boots and warm clothes.
c. He goes on the weekend.
d. He usually goes with 2 friends.
e. He often goes walking in the mountains.
f. They take food, water and a camping stove.
d. Organization: 
Teacher's activities
Students' activities
- Ask Ss to read the text and check their prediction.
* Comprehension Questions
- Ask Ss to work in pairs to answer the questions
- Ask Ss to write the answers on the board 
- Give feedback.
- Read the text and check
- Ask and answer the question. 
- Write on the board.
- Listen.
4. Application (8')
a. Aims:
- Help Ss write a short passage about their pastimes.
b. Contents:
- Transformation writing
c. Outcome: 
* Suggested answer
I like walking. On the weekend, I often go walking in the mountains. I usually go with two friends. I and my friends always wear strong boots and warm clothes. We always take food and water and a camping stove. Sometimes we camp overnight.
d. Organization: 
Teacher's activities
Students' activities
- Ask Ss to work individually to write the text again and change "Minh" to "I"
- Go round and help Ss
- Ask Ss to share the writing with their partners
- Call some Ss to read out their writing
- Give feedback
- Write the text
- Share with partners.
- Read the writing
- Get feedback
Homework 
- Learn by heart all the new words.
- Prepare for the next lesson: Review

Tài liệu đính kèm:
giao_an_tieng_anh_lop_6_unit_12_sports_and_pastimes_nguyen_t.docx